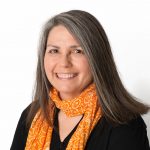 Mary Bowman-Cline, CMA, CMT, E-RYT 500 YACEP (continuing education provider) has been a student and teacher of Hatha Yoga since 1986. She is certified through the International Himalayan Yoga Teachers Association (IHYTA). Mary was a member of the Yoga Association of Greater Detroit from 1986-1993 and studied with many visiting teachers such as Judith Lasater and Arthur Kilmurray. After moving to Minneapolis in 1993 she began deeper studies of Raja Yoga at the Meditation Center in Northeast Minneapolis (founded by Swami Veda Bharati), where she now teaches Hatha Yoga, and Anatomy classes.
Mary teaches anatomy, using the Anatomy in Clay system (for yoga teachers and others), who wish to learn muscle names, attachments, and actions during movement and asana. Also discussing topics like common injuries and Anatomy of Respiration. Students will make muscles from modeling clay and attach them to 24 inch skeletons. She shares her knowledge anatomy and physiology from her twelve years as a Rehabilitative Massage Therapist and current career as a Medical Assistant at a Minneapolis Clinic.
Mary has traveled often to Riskikesh, India, the main center for the Himalayan Tradition, for training and to deepen her own practice. She teaches in Northeast Minneapolis at The Meditation Center (named one of the best in the Twin Cities).
See Places and Prices for class schedule.
Recently, her artwork was selected for the cover of Swami Hari: I am a simple forest monk. and We Are Only Visitors, both Written by Daniel Hertz, the books include "…true stories and a rare first-hand glimpse into the life and teachings of a great Himalayan Meditation Master." The proceeds going to the Swami Hari's school and Vocational center in India.